Everybody's a critic. Nadya Suleman's octuplets bringing total kiddie count to 14. (updated Feb 17)
Ann Curry interview on Today Show
The Young Turks weigh in true to their style
UPDATE, 6:45am Wednesday, February 11, 2009
Funny, I posted this story overnight and now there are more details coming out, so here they are from Huffington Post:
OCTUPLETS MOM NADYA SULEMAN ON FOOD STAMPS, THREE KIDS RECEIVE DISABILITY
An in-vitro procedure typically costs between $8,000 and $15,000. Asked on NBC how she was able to afford the treatments, Suleman said she had saved money and used some of the more than $165,000 in disability payments she received after being injured in a 1999 riot at a state mental hospital where she worked.

She also told NBC that she does not intend to go on welfare, though her publicist confirmed Monday that Suleman already receives food stamps and child disability payments to help feed and care for her six other children…

In an interview with celebrity news Web site RadarOnline.com, Angela Suleman said she and Nadya's father pleaded with her first fertility doctor not to treat their daughter again. She said her daughter went to another doctor.

"I'm really angry about that," Angela Suleman said of the doctor's decision to perform the procedure. "She already has six beautiful children. Why would she do this? I'm struggling to look after her six. We had to put in bunk beds, feed them in shifts and there's children's clothing piled all over the house."

Angela Suleman said Nadya's boyfriend was the biological father of all 14 children, but that she refused to marry him.

"He was in love with her and wanted to marry her," she said. "But Nadya wanted to have children on her own."
Ok, so it's her mom throwing her under the bus. I was wondering how this made a turn for the worse in the press.  Nadya lives with her mother who is already stressed about caring for the 6 children already in the home, 3 with disabilities that Nadya nor her mom has made public.
Maybe Nadya did not make the wisest choice, but she's not the only one out there.  The fact that she saved disability payments bothers me a bit, but that part doesn't add up with how she was able to save that much money and also receive food stamps.
No one knew she'd have octuplets, and when they did, how would you handle the question of selective abortion?  Whey didn't the Angela Suleman, Nady's mom, start her make fuss campaign at that time?
The babies are born now, and I don't know that the entirely factual scoop will ever be clear to us.  I say that people should instead choose to jump in and help just like we do with anyone else in extenuating circumstances (i.e. give her the reality show, book deal, the Oprah appearance)…and then sometimes we don't.  I debated this with my husband this morning, but my original position still remains at the moment.  Below is what I originally wrote.
———–
I've been holding on this story until I could give myself some time to read more about it, but the snippets I've heard and seen in headlines kind of bothered me.  Why is this lady all of a sudden an issue with her octuplets?
Here's my initial reaction.  My mother had 5 kids, and I recall vividly parents making comments and passing judgment, as my siblings were born, about why she was having so many kids.  Funny, how no judgment goes to my dad…double standards…I digress.  Things were and have been tight, but they did their best to raise us, and we're all very well rounded, bright children today.
How dare America start poking into this recently identified woman's life about the number of children or whether she can afford them.  How can we say this when we watch shows like Jon and Kate plus 8 and Meet The Duggars and Big Love?  No medical experts were critics with Jon and Kate Gosselin.
Who cares if she gets a book deal or a tv show?  So what if she wanted a lot of kids? In my mind, if she can find a way to love them all and give them the basic needs with help, it's a non-issue.
This issue is complex.  If you read or have gone through infertility treatments, you'll learn that they're expensive which puts pressure on people to increas their odds.  Medical advancements have led to better odds with multiples being carried to term and the success rate of caring for premature children.  Hospital care is expensive, and I'm sure her bills are off the chain for 8 little babies.
I say leave Nadya Suleman alone unless you're offering to lend some assistance.  We live in a free country with free will.
Talk to me.
What's your thoughts on Nadya's octuplets?
Is this an issue because she's a single mom?
If this were a medical miracle as opposed to the result of infertility treatment would you feel differently?
Was this medically irresponsible?
As always, here are some references for your reading pleasure.
UK Times– AMERICAN WOMAN GIVES BIRTH TO LIVE OCTUPLETS
"We decided to proceed with the delivery in anticipation of seven babies. We had done some drills, some preliminary dry runs," said Karen Maples, a member of the delivery team at Kaiser Permanente Bellflower Medical Centre, 17 miles southeast of Los Angeles. "Lo and behold, after we got to Baby G, which is what we expected, we were surprised by Baby H."…

The mother, whose identity has not been revealed, checked into the hospital in the 23rd week of her pregnancy. She was in her 30th week on Monday when she gave birth to the six boys and two girls, weighing between 680 grams and 1.4 kilograms. In total, she had been carrying almost 11 kilograms of baby weight before the delivery.
ABC News– OCTUPLETS MOM: CAN SHE AFFORD TO RAISE 14 KIDS?
Is it unethical to provide fertility treatments to someone who is not infertile?  The recent newsbreak that the 33-year old woman who gave birth to octuplets already has 6 children certainly leads one to question the medical legitimacy of the doctor who provided her with either infertility drugs, or in-vitro fertilization.
Time Magazine– THE OCTUPLET MOM SPEAKS, AND THE QUESTIONS GROW
Suleman hired a public relations agent less than a week after the octuplets' birth. Joann Killeen, president of the Killeen Furtney Group, was hired to field book, movie, and TV offers for her client. During an interview on "Larry King Live" on Feb. 3, Killeen portrayed Suleman as a "wonderful woman."…

Killeen also countered published reports that Suleman was trying to negotiate becoming a broadcast TV child care expert (NBC denied it paid for its interview with Suleman, the full version of which will air on Feb. 9). She did confirm, however, that it is Suleman's desire to pursue paying projects about the birth of the octuplets. "It's not true that she is being paid multiple millions of dollars for going on the media," Killeen told King. "She's not on welfare, has no plans on being a welfare mom…
Momaroo Blog– ETHICS OF INFERTILITY- THE CALIFORNIA OCTUPLETS
Is it unethical to provide fertility treatments to someone who is not infertile?  The recent newsbreak that the 33-year old woman who gave birth to octuplets already has 6 children certainly leads one to question the medical legitimacy of the doctor who provided her with either infertility drugs, or in-vitro fertilization.
WKRG News– OCTUPLETS MOM "OBSESSED" WITH HAVING KIDS
Angela Suleman said her daughter always had trouble conceiving and underwent in-vitro fertilization treatments because her fallopian tubes are "plugged up."

There were frozen embryos left over after her previous pregnancies and her daughter didn't want them destroyed, so she decided to have more children…

Her mother said she doesn't believe her daughter will have any more children.

"She doesn't have any more (frozen embryos), so it's over now," she said. "It has to be."
Feb 17, 2009 updates to this post

…

Since I wrote this post, so much has happened.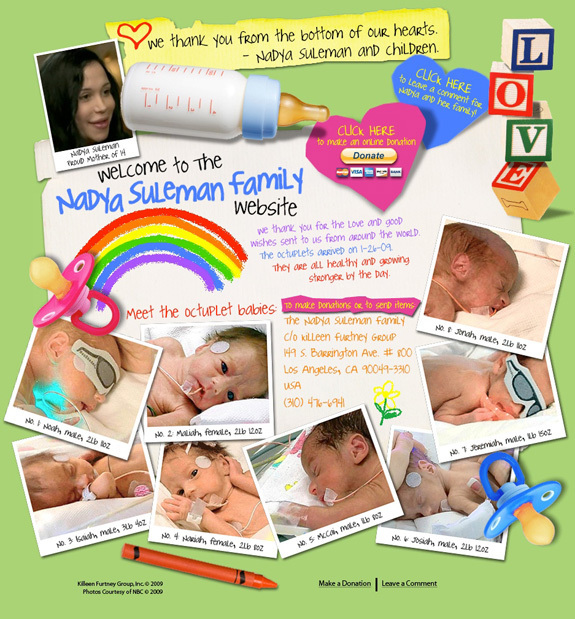 Nadya's publicist Joann Killeen of Killeen Furtney Group has resigned after numerous death threats.
Nadya hired Christian focused talent agent Wes Yoder of Ambassador Agency.  Wes is the same guy that represented Bobbi and Kenny McCaughey who made news in 1997 after having septuplets (source: Whittier Daily News)
David Solomon has been identified as the sperm donor who donated 14 embryos in total that Nadya has used to have her children.
The unemployed single mother from Whittier, California has revealed that she met sperm donor David Solomon in a night club and went on a date with him to the cinema before deciding that she didn't want him as a boyfriend – just to get her pregnant.
(source: Bild.com)
Nadya was once married to a man named Marco Gutierrez but divorced after not being able to conceive and realizing that having children was really important to her. (also from Bild.com…by the way it's a German publication and I found reading the story much less infused with bias than the sensationalized reports coming from our American news outlets.)
3 of her existing children have disabilities that qualify for government assistance of $793/month per child (source Guardian).  So far, I've only seen a report that 1 of them has ADD (Attention Deficit Disorder), but I do not know if that has been confirmed.
TMZ posted photos of Nadya while pregnant, see below.